A new podcast discovering North American food stories.
Our aim is to inspire greater value in all the food we eat year-round, sourced everywhere, right here, or right there, to create pathways to hunger-relief, justice, and resourceful food consumption.
Sign up for special content and be the first to know when a new episode drops!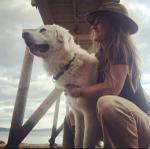 Hannah Semler has a Master in International Food Business and Consumer Studies from the University of Kassel, in Germany, and is co-founder of FarmDrop.us, a woman-owned online farmer's market tool for small-scale producers everywhere.
Hannah is also principal of WholeCrops, a consulting firm specialized in food rescue. Through WholeCrops she serves as a Betsy and Jesse Fink Family Foundation Fellow, the foundation responsible for catalyzing ReFED, a national nonprofit leading in data-driven solutions to food waste. Introduced as a Fink Fellow, Hannah has been working for Community Food Bank of Southern Arizona for the past three years. Previously she worked under World Wildlife Fund and USDA food waste research and development grants. She has also provided strategic support to several private companies such as LeanPath, Spoiler Alert, Matriark Foods, and Starling Realtime, all addressing food systems connectivity and resourcefulness.